Posted by Aundera Schroder
On December 7, 2021
Last month, PrintParts won the Startup Challenge at Formnext 2021 in Frankfurt, Germany with the release of our new product, SmartParts.
Cody Burke, COO and Co-Founder, presented the SmartParts next-generation authentication and traceability platform at the Pitchnext Presentation Awards.
The additive manufacturing industry is increasingly moving from prototyping to production – and with that shift comes a host of new challenges.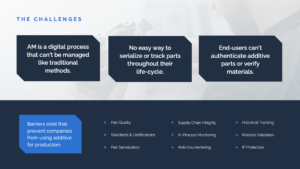 – The digital and distributed nature of additive manufacturing prohibits it from being managed like traditional methods.
– Additive processes introduce critical questions for end-use customers as they integrate additive into their supply chains.
– There is no way to verify the source of origin of materials with 100% certainty, from raw feedstock to the end-use parts in the field.
– A customer using multiple suppliers for the same part is not able to reliably tell which part came from which supplier once parts are put into use.
– Determining the history of a part, including its manufacturing date and Digital Twin information, is reliant on manual systems and records that are not digitally connected to the actual part.
Solving for these issues is vital for organizations producing production parts, particularly in high requirement industries such as Aerospace, Automotive, and Medical.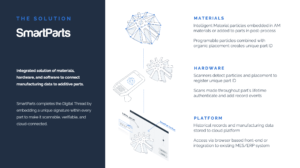 Introducing solutions to enable end-to-end traceability beginning at material compounding, during manufacturing, and throughout the parts lifecycle are critical to achieving the potential of additive for production applications.
SmartParts is an integrated solution from PrintParts that consists of intelligent materials, scanning hardware, and cloud software to connect digital manufacturing data to physical parts. Our solution completes the Digital Thread by embedding a unique signature within every part to make it scannable, verifiable, and cloud connected.
SmartParts is an industry-wide, technology agnostic solution supporting an ecosystem of partners.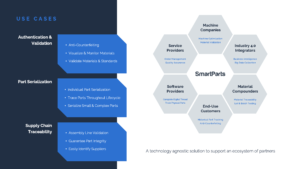 All segments in the manufacturing value chain can benefit from SmartParts technology with the ultimate value accruing to the end-use customer.
– A material company who introduces Intelligent Material to one of their products gains the ability to prove source-of-origin and offer a verifiable material to their customers.
– Additive OEMs are able to incorporate low-cost scanning hardware into their systems to authenticate materials on the machine level to verify suppliers and ensure the correct certified materials are used for high requirement applications.
– Production software system vendors can integrate with the SmartParts Platform to connect manufacturing data to additive parts, extending the Digital Thread.
While upstream partners each gain value in distinct ways, the downstream impact to the end-use customer is cumulative with full end-to-end traceability from raw material to part end of life. End-users are now empowered to integrate additive processes into existing QMS systems, accelerate Digital Transformation and Industry 4.0 initiatives, and remove barriers to increased adoption of additive manufacturing.
The PrintParts team has extensive experience in business leadership, industrial manufacturing, product development, and additive manufacturing.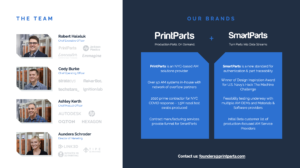 As a production focused service provider, we are intimately connected with our customers and their challenges as they scale additive for production. We are introducing SmartParts to address our customer's needs and provide end-to-end authentication and traceability to the entire additive industry.
Contact us to learn more about SmartParts: founders@printparts.com