Posted by Aundera Schroder
On December 13, 2021
PrintParts, an additive manufacturing technology company, announced the upcoming launch of its SmartParts Beta Program beginning in Q1 of 2022.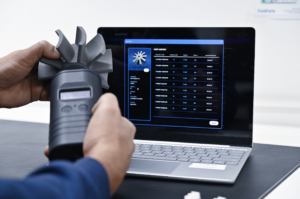 The new beta program will provide participants with early access to SmartParts, an integrated solution that consists of Intelligent Materials, scanning hardware, and cloud software to connect digital manufacturing data to 3D printed parts. In exchange, participants will provide feedback that will play a critical role in the development of the full commercial release of the SmartParts solution.
As an industry-wide, technology agnostic solution, early customer and partner input is a key factor in the Company's mission to build a true end-to-end traceability solution to help customers authenticate and prove source-of-origin of materials, verify suppliers, and track end-use parts as they move throughout their lifecycle.
Earlier this year, PrintParts announced it has begun shipping SmartParts to select production customers. The beta program will allow PrintParts to collaborate with additional stakeholders in the additive ecosystem including material companies, machine OEMs, software providers, as well as end users of additive manufacturing.
To learn more about the SmartParts Beta Program, please contact us at smartparts@printparts.com to set up a meeting and request more information.
About PrintParts Inc.
PrintParts Inc. offers advanced additive manufacturing technology solutions, including the SmartParts authentication and traceability platform. The company's manufacturing services include prototyping and production of industrial-grade parts for end-use applications using a wide range of additive technologies and materials. For more information, visit www.printparts.com
Press Contact:
Aundera Schroder
Phone: (806)382-7765
Email: aundera@printparts.com
Immerse yourself in the thrilling world of online casino Canada real money gaming. Play your favorite casino games, from slots to table games, and experience the excitement of wagering and winning real money from the comfort of your own home.